Ohio Hunting
Trophy Whitetail Deer and wild Turkey top the list of the most sought after game in the Buckeye State. We'll help you find a professional
Ohio Hunting Guide / Outfitter
for your next hunt, simply click
Find A Hunt
or select a gun or bow below after reviewing the
Ohio Hunting
information.
---
Ohio Hunting Summary
Whitetail deer hunting in The Buckeye State is world class and is gaining fame as a trophy buck state due in large part to having an excellent deer management program. The state's deer management program has a very conservative buck harvest and is designed to manage for trophy-sized bucks while controlling the state population through hunting of deer, especially does. This allows for the population to remain balanced while also putting in place the conditions necessary to produce record setting deer. Ohio has a short gun season, held after the rut (which is bow hunting only) and only allows shotguns.
Other top hunting choices in the Buckeye State include abundant eastern wild turkey, bobwhite quail, coyote, duck, and goose.
---
Ohio Hunts
Select the desired species & weapon below and click "Go"
Ohio Whitetail Deer Hunts
Ohio Turkey Hunts
---
Spotlight Ohio Outfitter
Sugar Camp Outfitters

WHITETAIL HUNTING

If you take whitetail hunting seriously, then you will fit in here at Sugar Camp Outfitters. We may be a brand new outfitter, but we are not brand new hunters. We are 100% fair chase with thousands of acres to offer here in Southern Ohio. With all the hunting and scouting, we have come up with great game plans to score a buck of a lifetime.

Sugar Camp Outfitters is located in Southern Ohio, and we are right in the foothills of the Appalachians. We have the best of both worlds. The Rolling hills and deep woods of Southern Ohio provide great cover to accommodate a MONSTER BUCK along with farmlands of corn, bean, and alfalfa to offer plenty of food to grow a nice buck.

Here in southern Ohio, we are known for producing large bucks. At Sugar Camp Outfitters, we strive to harvest 120" minimum bucks and ensure they get the opportunity to mature to their fullest potential. Whether you are a gun or archery hunter, you will be impressed with our trophy class whitetail deer.

You will not find another outfitter that works as hard as we do to score you a trophy buck of a lifetime. Our hunting season doesn't start in September because we work hard all year around! Since we are a brand new outfitter, we will work harder than any other Ohio outfitter to get you the best odds to score a MONSTER BUCK!

In the spring, we put in many hours tending to our food plots, tracking the buck's travel patterns, moving stands, and familiarizing ourselves on the latest hunting technologies. We believe that scouting is a very important aspect of your hunting experience. We spend countless days in the woods getting an understanding of where the deer are located and what their travel patterns are.

Being hunters ourselves and growing up in the hills of southern Ohio, we have a lot to offer you. You will be working one on one with your guide as soon as you book a hunt. We will stay in contact with you all year long to address any questions you may have.

TURKEY HUNTING

Wild Turkey are very plentiful in the southern Ohio hill country. It is very common to see a flock of turkey pass by, even during deer season. We have several different tracks of land available to hunt for spring gobbler season that feature fields and tall timber.

We're convinced that a great tom is easily within reach in these hills and hollows. We currently offer only semi-guided hunts, as we renovate our lodging facilities for this year. Even in our semi-guided hunts, we will help direct you to the optimal spots for your exciting encounter with these magnificent birds. if you don't feel confident in calling your own bird feel free to contact us, as we have set up assisted programs to accommodate your needs.

Species Offered
---
For ALL Big Game, Waterfowl, Upland Bird, Varmint, and Small Game Hunts, visit Find A Hunt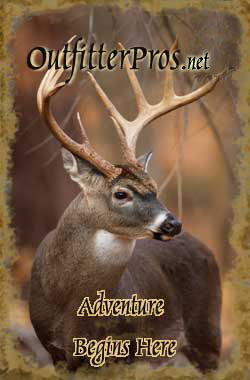 ---

Win Hunting Gear
Each hunter that completes a Find A Hunt form qualifies for monthly and quarterly prizes in our Giveaway Contest - Grand Prize: TC Bone Collector Triumph Muzzle Loader.
Save Time
One simple form matches your hunt criteria with pre-screened professional Big Game Guides and Outfitters.
Save Money
After you complete the Find A Hunt form, we'll provide you a link to our Twitter page where we share Hunting Deals and Specials - early bird specials, cancellation hunts, DIY hunts, group specials, etc.
Book With Confidence
Each Big Game Outfitter must pass our exclusive 5 Point Outfitter Rating System in order to have their hunts listed in our database.
---
Proud Supporter of:
---
MORE Hunts
Click a Link Below for other Top Hunts